" content="(null)">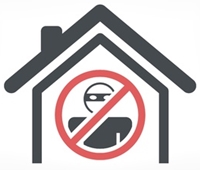 Professional Security System Installation Made Easy

Learn all the skills necesssary to install and program a Honeywell Vista 20P. The tutorials start with how to wire the Vista 20P and peripherals and continue on to include system programming and wireless device setup. Vista 20P installation and setup is followed by a quick guide to installing and setting up the Envisalink 4 Internet Communicator.

Smartphone Friendly


We all live on our phones, so I've designed the new layout to be useful from any device.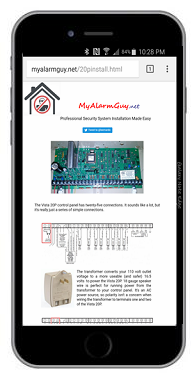 Vista 20P Keypad Options


The recommended Vista 20P kit includes a 6160RF keypad. Its internal RF receiver will allow the use of wireless devices in your system, and its custom alpha display will allow access to important installer level programming options. Up to six additional keypads can be installed in your system, the most popular are shown here.

Honeywell F.A.Q.


What parts are required to complete my Honeywell Vista 20P Security System?

Most kits come with the basics, those being:


A Vista 20P control panel.
A 16.5 volt transformer (typically 25vA, but 40Va is preferred).
A 12 volt backup battery (typically a 4 amp/hour, but 7 amp/hour is preferred).
One keypad. The less expensive kits usually include a fixed alpha 6150 keypad. A 6150 is fine for system operation, but you won't be able to complete system programming unless you have a keypad with a custom alpha display like the 6160 or 6160RF. The 6160RF has a built-in wireless receiver that will allow the Vista 20P to communicate with wireless devices.
The above parts will make your Vista 20P functional, but you'll still need detection devices like door contacts and motion detectors. You'll probably want to keep it simple at first, a couple of door contacts and a motion detector should suffice.



My alarm system has a low battery, can I change it myself?

Alarm batteries are easy to change out, their wiring is connected by slide-on spade connectors. Slide off the red and black leads, swapout the battery, then connect the new battery. Make sure to match the red lead to the red terminal, and the black lead to the black terminal. The Yuasa battery below is a high quality replacement battery that will fit all Honeywell Vista series panels. It's also great for the DSC PC1616/PC1832 and GE/Interlogix NX-4,6,8 panels.



I'm trying to program my Honeywell alarm system but I don't know the installer code, is there a back door code?

There's no back door code, but their is a way to enter installer programming without a code.

Completely power down the Vista 20P (ac and battery).
Power the system back up and immediately go to the nearest keypad.
Press the * and # keys at the same time.
If successful the display will show a flashing 20 on a 6150 keypad, or "20 Installer Code" on a 6160 keypad.
If unsuccessful the most likely cause is that the original installer locked out local programming. Alarm companies do this a lot to prevent homeowners from altering the program and to prevent other alarm companies from taking over their accounts.


I just bought a house that has a Honeywell Vista 20P, but I don't know the alarm code. Can I re-program the system?

Maybe. Follow the steps above to see if you can get access to installer level programming. Once in installer level programming press *96, pause, then press *97. The Vista 20P will be reset to factory defaults provided the installation company hasn't disabled the default feature.
If all else fails you can simply replace the Vista 20P board and re-use all the existing peripheral devices.


I powered up my new Vista 20P but the keypad isn't working.

New keypads have to be addressed in order to operate, additionally the Vista 20P only has keypad 1 factory enabled.

Keypad 1 = Address 16
Keypad 2 = Address 17
Keypad 3 = Address 18
Keypad 4 = Address 19
Keypad 5 = Address 20
Keypad 6 = Address 21
Keypad 7 = Address 22


Power down your system, then power it back up.
Go to the keypad you want to be Keypad 1 (a 6160 keypad preferably).
Press the 1 and 3 keys at the same time.
Now follow the instructions in the paperwork for your new keypad to set the keypad address to 16. In a non-RF keypad it's as simple as pressing 1 - 6 then pressing *

Once the keypad on address 16 is working you'll need to use it to enter Vista 20P installer level programming to enable each keypad you intend to use. Keypad enabling is included in the Vista 20P programming tutorial above.


My keypad is randomly beeping and I don't know why.

There's several things that could cause your Honeywell keypad to randomly sound. If your chime feature is turned on it could be that one of your perimeter zones (a door or window) is faulting due to a bad contact or mis-aligned magnet. A continuous beeping accompanied by a "check" display on the keypad indicates a system trouble condition, if so there should be some indication on the keypad's display to tell you what the problem may be. If your keypad is chirping once, pausing, then chirping again, you've most likely accidentally put your system into test mode. Enter your code, then press 1 (off) to take the system out of test mode.


We're a participant in the Amazon Services LLC Associates Program, an affiliate advertising program designed to provide a means for sites to earn advertising fees by advertising and linking to Amazon.com.



MyAlarmGuy.net